Tutorial 3 – Prof. Ashish Ghosh
"Machine learning approach for remotely sensed big data analysis"
Every day a large number of Earth observation (EO) space borne and airborne sensors from many different countries provide a massive amount of remotely-sensed data. Those data sets comprise different spectral bandwidths (dimensionality), spatial resolutions, and radiometric resolutions. Combined with human activities and data from social science, the massive remotely sensed data (which consists of big data in remote sensing) have been successfully used for different applications, such as natural hazard monitoring, global climate change, urban planning, etc. Current estimates say that remotely sensed data are now being collected following a Petabyte level growth per day over the world. This makes the remote sensing data an ideal candidate for Big data applications due to its sheer volume, varieties in terms of temporal, spatial and spectral resolution, continuous collection of data (velocity) and necessity of ground validation (veracity). Most of the remotely sensed big data analyses do not make any sense if they lag in time. Hence, the value of the data is too short lived and holds purpose only if used in proper time.
Despite the advancements in the broad field of computer science, storing, managing, processing and mining this remotely sensed "big" data is still a significant challenge. Currently, data analysis methods play a central role in geosciences and remote sensing. While gathering large collections of data is essential in the field, analyzing this information becomes more challenging. Evidently, such "Big Data" has notable effects both on the predictive analytics and the knowledge extraction and interpretation tools. Considering the significant capabilities of machine learning, it seems to be a very efficacious approach to handle this type of information.
Machine learning creates a platform which helps to extract, understand and learn the underlying structure of this data. There have been many efforts to modify or adapt machine learning methods for this specific purpose. They have been made scalable and real time. Machine Learning focuses on the automatically extraction of information from data by computational and statistical methods. The application areas are very diverse and include different themes such as trace gases, aerosol products, vegetation indices, ocean products, characterization of rock mass, liquefaction phenomenon, ground motion parameters, interpreting the remote sensing image, etc.
This will be a three part talk. It will start with the motivation and basics of machine learning methods, and recent developments. We will cover the fundamentals and look at the best practices, common architectures and popular frameworks. The second part of the talk will focus on some interesting theoretical problems in remote sensing applications that can be solved by machine learning methods. The last part of the talk will focus on applied aspects and current topics in Big Data analytics for remotely sensed data. We will touch upon some popular initiatives and comment on the future of the remotely sensed big data analytics. The lecture will show a gradual adaptation from basic machine learning techniques to the advanced techniques used for remotely sensed big data analytics. Several interesting topics like climate informatics, automatic object detection, change detection etc. will be given special emphasis.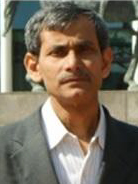 Instructor Biography
Starting as an electronic engineer (1983-'87), Prof. Ghosh moved to computer science during his master's (1987-'89), and finally to Intelligence (AI) during PhD (1993). Completing post-doctoral research in Japan (1995-'96), he joined as a faculty member at ISI (professor, and contributing immensely to the field of AI, machine learning, image/video analysis and data science. He has already published 250 research articles on these subjects; and has an H-index 40.
For his pioneering contribution in computational intelligence and image analysis, he earned Young Scientist award from Indian Science Congress (1992), Young Scientist Medal from INSA (1995), and Young Associateship of Indian Academy of Sciences (1997). He is a Fellow of the West Bengal Academy of Science and Technology. For his excellent service to IEEE, he received IEEE-GRSS Regional Leader Award, 2019.
He visited various Universities/Academic Institutes in connection with conducting collaborative research/projects and deliver lectures in different countries including China, Germany, Hong Kong, Italy, Japan, Poland, Portugal, South Korea, Thailand, The Netherlands and the USA.
He served as plenary/keynote speakers in many international conferences in India and abroad. To upgrade and nurture the engineering community, he disseminated seminar lectures and conducted several workshops /short-term courses in different parts of India on upcoming topics of AI, machine learning, image & video analysis and data science. As PI and Co-PI, he completed seventeen projects of national and international importance, funded by Government of India, European Commission, Indo-Italy and Indo-US forum for science & technology.
He is a member of the founding team that established the National Center for Soft Computing Research at the Indian Statistical Institute, Kolkata in 2004 with funding from the Department of Science and Technology, Govt. of India. Since 2010, he is acting as the In-charge of this Center that has been recognized as an Associate Institute of ISI. He also served as the Head of the well-known Machine Intelligence Unit of ISI during 2013-2014.
He is currently leading the Data Science Research consortium project as the Theme Coordinator to manage a number of projects assigned to different reputed Indian Institutes under ICPS program of DST. He is an Associate Editor of several International journals, like, IET Journal of Computer Vision, CAAI Transactions on Intelligence Technology (published from IET) and Sadhana, and a Series Editor of Communications in Computer and Information Science (CCIS), Springer-Nature.